The first days of an adventure...
All summer I have been working and working my pencil down to the stub (not entirely true, I usually favour a propelling pencil) towards the goal of a holiday. And not just any holiday. For this was not just a mere week of lazing on the beach, or climbing a mountain, or riding a camel across the sahara. Oh, no. It was a delightful feast, a feast of delights, and I gorged myself. It was an Art Deco holiday.

If you were to sit down and spend some time in my company, it would be difficult for you not to notice my obsession with the 1920s. Art Deco, the Arts and Crafts Movement, Agatha Christie, P.G Wodehouse, A.A. Milne, E.H. Shepard, Milly Molly Mandy, The House at One End Street...the list goes on. And in May I received from my husband a hand written voucher to the tune of "one ticket to a weekend of Art Deco", which produced arguably the most excited reaction any present consisting of one piece of Bic biro-engraved paper has ever produced!
Now, I'm not normally a person to show everyone holiday snaps (reason number 1 being my camera is broken) but this was a break with a difference. I have visited some really inspiring and delightful places, and I will endeavour to share them with you here. There are rather a lot, so I will break down each place of inspiration into different blog posts I think, and we'll see how this pans out.
TO BEGIN...
Before we could really get started on this mini-break we popped down to Reigate to meet with my lovely agents Mark and Hannah at Plum Pudding, and had a wonderful 3 hour chin wag. It was nice to see the place in person; I illustrated the map for the PP website (along with doing their other rebrand design work) about 6 months back and spent ages on Google Street View checking out the buildings and so on. It was good to know that the map made sense!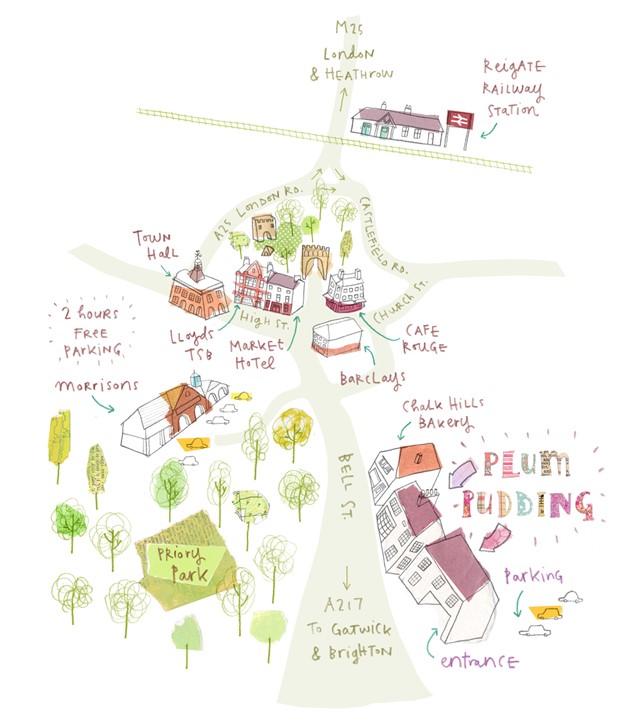 Said chinwag (one word or two?) was followed by a tasty lunch in the Most Beautiful park I think I've seen to date. This might be as I was under the influence of Noworkforawholeweekandmyholidayhasreallybegun Syndrome, but it was a lovely summery day, if a little windy, and the park truly is beautiful.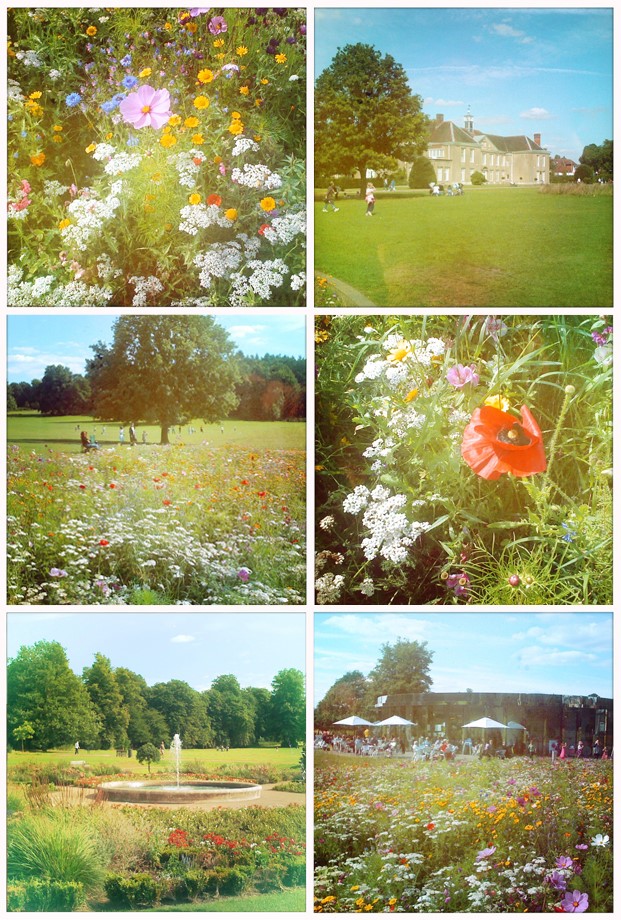 If you're ever in Reigate, this is Priory Park, situated conveniently opposite the Plum Pudding HQ (see map above!) There is a lovely little cafe, which was absolutely bursting with mums and kids revelling in the last precious days of the summer holidays. It's a delightful place, and for a brief moment we considered jacking everything in and moving down to Reigate! Which I'm fairly certain is a strong reaction for one park to produce, and is why I have designated it a Most Beautiful park.

This trip came to a speedy end after lunch as we were due a visit to our little two month-old niece, who, last being seen at one week old, was tugging on my heart strings with careless abandon. We set off for Wimbledon.

Here I am with little Eleanor, whose little face could melt away the darkest clouds. At least, it would try.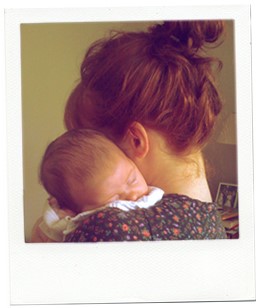 I'm in love!
Coming soon... The London Transport Museum (more exciting than it may sound!) Tune in *soon* for the next installment of my adventurous week!